People who know me, know that I almost always vote no when it comes to pizza. It's not that I don't love pizza, I REALLY REALLY do, but it is all gluten and dairy, two things that sadly don't work for my digestion or my waist line. However, when I run a half (or on the rare occasion farther) it is totally time to adapt the #treatyoself mentality with some well-earned pizza. Sunday night, as a post More Fitness Half Marathon treat, Irish Kat and I headed to The Parlor in Dobbs Ferry to partake in some local pizza flavor. Since the doors to The Parlor opened in the Fall of 2013, everyone has been begging me to go try it with them; I now publicly apologize to everyone I have turned down.
When I walked in to meet Irish Kat, the space seemed dark and somewhat cramped. With its exposed brick walls, graffiti art, and servers in trucker hats, The Parlor doesn't have the vibe of a local pizza place, but rather a place you'd see a super-cool band that hasn't hit the main stream perform an unadvertised show, (regardless of the fact that the speakers pumped out classic Poison tunes throughout our meal). With a lengthy beer list ranging from Colt 45 (Hell yeah, Billy Dee Williams fans!) to craftier options for beer aficionados, six wines on tap (yeah you read that right, on tap), and pre-bottled cocktails in personal flasks, I started to feel like maybe I'm not cool enough to eat here; but looking around I realized this really is a welcoming establishment with families, couples, friends, and post little league game celebrations taking place. We sat under the protective gaze of what I deemed, the Angel of the Dough, an image you would expect tattooed on an old Italian dough-slinger, that looks beautifully serene gracing the exposed brick of The Parlor. As I absorbed my environment, I could not help to think to myself, The Parlor is the perfect mancave for Chef David DiBari to live out his "eat serious…have fun" philosophy; his escape from the formalities of his other Dobbs Ferry establishment, The Cookery*. From what I can tell from my Instagram feed (I follow @theparlordf, @thecookery, @chfdibari and as of yesterday @thecookerysdoughnation – the new IG account for the mobile wood fire pizza oven), it seems that just when you think David DiBari and his arsenal of culinary prowess can't get Eddie Vedder any better, it does.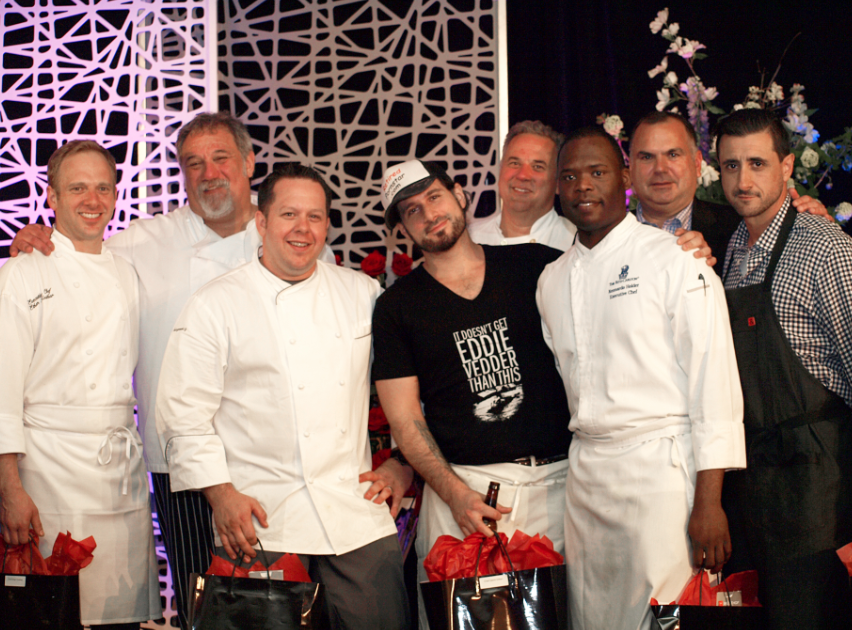 Irish Kat and I decided to split an appetizer and pizza as our meal. We ordered Chicken Fried Bacon as an appetizer. We got three slices of thick cut of bacon, that had been dredged in flour and deep-fried. It was accompanied by a granny apple relish. We both were not sure what to expect from this appetizer, but it sounded different and it was bacon so how bad could it be? We both agreed it was ok. The bacon is a bit more chewy than crispy because of the batter, however I really enjoyed the apple relish. It was sweet, but tangy. I'd just order that if it was an option.
For the pizza choice, we went with the Polpette. This pizza has cookery meatballs, pomedoro, ricotta, and basil. The pizza came out accompanied with a pair of scissors to cut your own slices. It seems that cutting pizza with scissors is a pretty common thing. The scissors allow you to control the size of your slice and also makes you feel kinda powerful. The little girl eating dinner with her mom at the table next to us, cut her pizza in to words. It took a while, but she seemed to be having a good time (however, this may be why there is usually a wait for a table!) The pizza itself was fabulous. The crust was very light and incredibly thin, yet the pizza was sturdy, and did not collapse under the weight of its toppings. The crust develops those wonderful air bubbles on the edges which get a little burnt looking in the oven, and give a little extra something to the flavor of the pie. The meatballs were incredible, just as they are at The Cookery. The ricotta to meatball ratio was perfect, it added just enough creaminess to pair with the meatballs (and Irish Kat was nice enough to take the pieces that were a little more cheese laden – oh the sacrifices my friends make on my behalf!)
Of course a meal isn't complete with out dessert! But what to choose from the robust list of desserts. It is a pretty decent size list of options when you consider most pizza shops just have Italian ice (if you are lucky), but then again, The Parlor isn't like most pizza shops. We couldn't decide so we picked two – the Oreo Bread Pudding and the Butter Fried Waffle both accompanied by Jane's Vanilla Ice Cream (which is made upstate in Kingston and is also used in Chef DiBari's creations at The Cookery). The Oreo Bread Pudding was delicious. It tasted like a soften version of the cookie portion of an Oreo, arriving at the table warm and complemented by the vanilla ice cream. We would have really liked to have seen Chef DiBari figure out a way to make the Oreo's creamy center more dominant in the dish, but it probably isn't possible since this dessert arrives warm and the creamy center would probably melt. Dessert number two (don't judge, I ran a half that morning or did you forget that part of the story?) graciously arrived right after the Oreo dream. This was the Butter Fried Waffle. The best way to describe this would be if a Belgian Waffle and a Churro had a torrid love affair and produced a love child drizzled in Nutella. Two of these churro love waffles sandwiched scoops of Jane's vanilla ice cream and the whole amazingness is then drizzled with the chocolate hazelnutty goodness of Nutella, cause everything tastes good drizzled in Nutella!
Overall, The Parlor provided a great meal and a wonderful way to end the day. I highly recommend stopping in for a visit. Oh, and don't forget to check the specials board next to the giant lips on the oven. We totally missed it and our chance to try some ramp pizza. Obviously I'll have to go back again soon!
The Parlor is located at 14 Cedar Street, Dobbs Ferry, NY 10522. Tuesday – Thursday Noon – 10pm, Friday & Saturday Noon – 11pm, Sunday Noon – 9pm. They are closed on Mondays and do not take resevations, walk-ins only. If you are not in the area and are in the need of a little food porn, follow the instagram handles I listed above.
*I have plans to talk about The Cookery another day but for now, if you go and they have the chocolate polenta with the pretzels and caramel sauce for dessert, GET IT!